The FitnessOnDemand GROUP5 system will output audio via the audio outputs from the media hub. By default, the audio will be output via the HDMI connection, sending the audio to your connected display device. We recommend using this default setting. If you are using external speakers such as a soundbar, the most efficient setup is to connect the speaker or receiver to the audio output connections from your TV.
Media Hub Audio Outputs
If you need to connect your audio system to the media hub directly, there are a few audio output connections available. You will find a 3.5mm audio jack (labeled "Headphone jack" below) and a SPDIF optical port.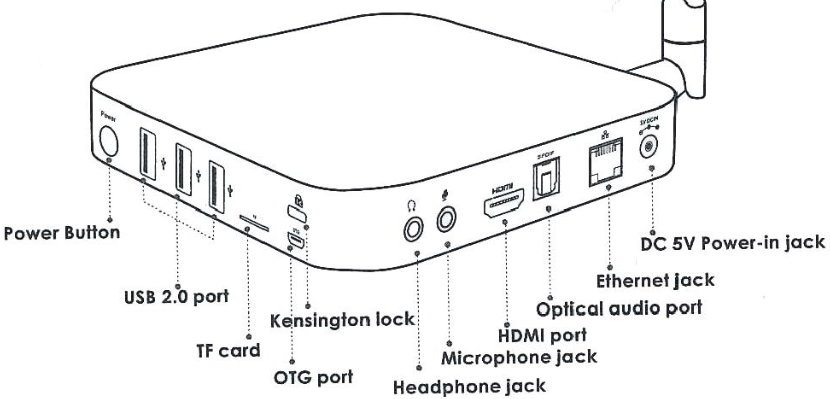 Audio Settings
3.5mm
Using the 3.5mm audio output is extremely simple. Once you connect an audio device to the 3.5mm port the media hub will default to that connection.
Note: The media hub will output audio at 75% when using the 3.5mm headphone jack. You will need to adjust accordingly on your audio device to compensate. If the audio is not loud enough, consider connecting your audio equipment to the audio output connections on your display instead.
SPDIF Optical
Once you connect an audio device to the optical port on the media hub, the audio output settings on the hub will need to be adjusted.
Using the FOD remote, press the Home button to exit the FOD app
Use the arrow keys to select the Gear icon and press OK
Navigate to Sound & Notification
Select Sound Devices Manager at the bottom of the screen
Choose Spdif Passthrough
Press the Home button again to exit out of Settings
Select the Power icon on the bottom and reboot your media hub
Note: The reboot after adjusting the audio setting is required. The FOD app will not function properly until the media hub is rebooted.
Volume
The volume on the media hub is always set to 100% (75% when using the 3.5mm audio output). To adjust the volume of your videos, use your volume adjustments on your external audio devices. If the sound is playing through your TV speakers you can change the volume by using your TV remote.
iPad Volume
The iPad's speaker is used when watching video previews directly on the iPad. The volume can be adjusted in the control center.
Tap Admin on the top-right
Enter the passcode 2411
Press the iPad's physical Home button to exit the FOD app
Swipe down from the top-right of the screen (where you see the battery percentage) to open the Control Center
Drag the up or down to adjust the volume.
Tap elsewhere on the screen to close the Control Center and tap the FOD app.