The Fitness On Demand FLEX experience can be white labeled to amplify your business's brand within the FLEX app and web portal that your patrons will see when using Fitness On Demand services.
Onboarding Questionnaire
A set of default onboarding questions are configured for all locations. The answers to these questions are available in the management app under, Onboarding Answers Report. If you would like to use your own questions please email them to your customer success manager to have them imported. Note, if you choose to remove your custom questions the system will revert back to the default questions unless requested to have the default questions removed.
The following answer type fields are supported:
Dropdown (customizable)
Radio (Users can select one option at a time from a predefined list, and selecting a new option automatically deselects the previously selected one.)
Text
Yes/No
Welcome Video
Similar to the onboarding questions, we have loaded each location with a default welcome video. The default welcome video can be uploaded and managed in the management app under Customize >> Welcome Videos. If the custom video is removed the system will revert back to the default video. The default can be removed if requested by your customer success manager.
Branding
The color of the app and the FLEX web portal can be updated to reflect your company branding. This can be updated in the management by navigating to Broadcast which is found in the FLEX tab.
Our branding tool gives users a visual example that allows them to see in real-time what the color and logo will look like in the app. Note, that the color and logo will not change in the app until you click 'Save Changes'.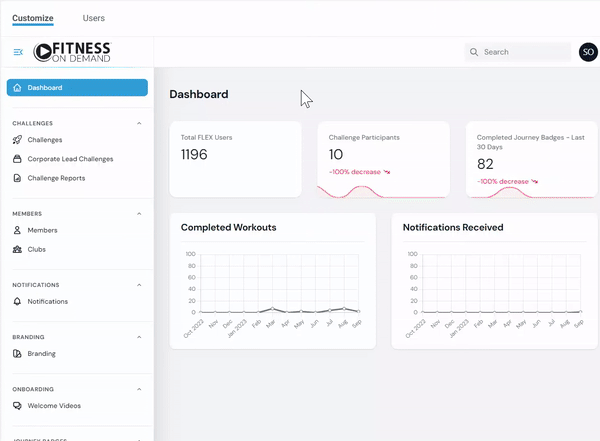 Logo
For the best-looking logo in the app and web portal, we recommend the following.
Image format JPG, PNG, GIF, or SVG.

High Resolution

Rectangular, Landscape, between 2:1 and 4:1 ratio

Transparent background
Complimentary to the brand color - the logo will be on the header on top of the brand color.
Limited to no buffer space/padding